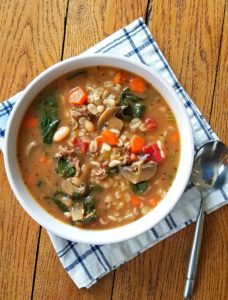 A big bowl of immune-boosting nutrients to help fight flu, but keep you overall healthy, too. That's what my Beef Barley Vegetable Soup is.
Before I blather on with all the health benefits, let me say this is EASY to make. And it makes a BIG BATCH – perfect for big eaters or big families. About 18-20 cups, so that would be 9 to 10 servings of 2 cups each. And it'll last a couple days (leftovers = no cooking!).
Now, those health-boosting benefits: lean beef (zinc and protein for muscle repair), mushrooms (selenium for immunity), tomatoes, spinach and carrots (powerful antioxidants), onions and garlic (phytonutrients for optimal health) and barley (soluble fiber for healthy cholesterol levels).
All you need is a big slice of hearty, crusty bread for a balanced meal. Leftovers work great in lunchboxes, too.

Beef Barley Vegetable Soup
Hearty, filling soup bursting with immune-boosting ingredients. Easy, too.
Author:
Kim Galeaz RDN CD
Ingredients
2 ½ tablespoons vegetable oil
1 pound Private Selection lean ground beef (90/10)
1 ½ cups finely chopped onion
1 ½ cups diced carrots
1 cup finely diced celery
3 large garlic cloves, finely minced
8 to 10 cups Kroger lower-sodium beef broth, divided*
1 can (15.5 oz.) Kroger cannellini beans, rinsed and drained
1 can (13.25 oz.) Kroger pieces and stems mushrooms, drained
1 can (14-15 oz.) fire-roasted diced tomatoes, undrained
1 ½ teaspoon dried basil
1 teaspoon dried oregano
½ teaspoon ground black pepper
1 cup quick-cooking barley
⅓ cup grated Parmesan cheese
2 teaspoons red wine vinegar
6 cups fresh baby spinach leaves (stems removed)
Salt, to taste
Instructions
Heat oil in a large stock pot over medium-high heat. Add ground beef, onions, carrots, and celery, cooking and breaking up beef into crumbles. When beef is nearly done, stir in garlic and cook until beef is thoroughly done and carrots and celery are soft, about 5 minutes. Stir in 8 cups beef broth, cannellini beans, mushrooms, tomatoes, basil, oregano and black pepper. Bring to a boil, then add barley. Reduce heat to low, cover and cook until barley is done, about 15 to 20 minutes. Remove from heat and stir in red wine vinegar, Parmesan cheese and fresh spinach leaves. Salt to taste if desired. *If soup is too thick for your tastes, add in 2 more cups of beef broth. Serve hot. Refrigerate leftovers in tightly covered container and enjoy within 3 days. Can be frozen as well. Makes about 18-20 cups soup (10 to 12 large servings)