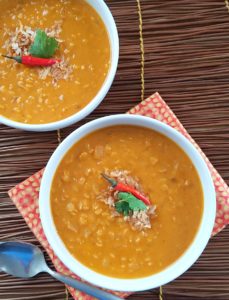 Take a trip with your skillet to your stovetop for some global, Thai-inspired soup. The only ingredients requiring prep are the onions and garlic – some fast chopping. Other than that, this savory fruit soup – that's right, pumpkin is a fruit – needs only dumping from cans, jars and containers. My kind of soup-making.
But how's this for an added perk? Filled with immune-boosting ingredients to keep you healthy and hopefully keep colds and flu at bay. Lentils offer lean protein for muscle repair and regrowth plus tons of fiber and the pumpkin is filled with disease-fighting, heart-healthy beta-carotene.
I like to enjoy a big bowl of my Thai Pumpkin Coconut Lentil Soup with a few wedges of soft pita pocket or even Naan. Yes, I know that's fusing two different cuisines, but I'm all about being adventurous!
Hope you are too! Enjoy.

Thai Pumpkin Coconut Lentil Soup
Easy, rich-tasting, nutrient-filled Thai-inspired soup.
Author:
Kim Galeaz RDN CD
Ingredients
3 tablespoons vegetable oil
2 cups finely chopped onion
2-3 garlic cloves, very finely minced
1 tablespoon grated ginger (or ready-to-use chopped from jar)
1 ½ teaspoons ground coriander
½ to ¾ teaspoon ground cumin
¾ teaspoon to 1 teaspoon Kroger Private Selection Thai-Inspired Red Curry Powder
¼ to ½ teaspoon salt
4 tablespoons Thai red curry paste
1 can (15 oz.) Kroger 100% pure pumpkin
4 cups Kroger vegetable broth
1 ½ cups Kroger red lentils
1 can (14-15 oz.) lite Thai coconut milk
3-4 tablespoons lime juice
Garnishes: toasted coconut, cilantro leaves, green onions
Instructions
In a large stock pot, heat oil over medium heat. Add onion and sauté about 6 minutes, until onions nearly soft. Add garlic, ginger, all spices and red curry paste. Cook for 3-4 minutes. Stir/whisk in pumpkin, broth and red lentils and bring to a boil. Lower heat to low simmer; simmer 15 to 20 minutes, or until lentils are soft, but not mushy. Stir in coconut milk and lime juice and adjust seasonings if desired. Serve hot. Refrigerate leftovers in tightly covered container and enjoy within 3 to 4 days.
Makes about 7 ½ to 8 cups soup.