Perfectly portable picnic foods.
Deviled eggs rank right up there with potato salad, baked beans and coleslaw for the most all-American picnic food.
Probably because they're fairly easy to make and look so festive. Plus, you can customize them with number of unique ingredients.
Like my Smoky Chipotle Deviled Eggs.
So far I've converted one non-deviled egg eater with this creamy, smoky and bacon-studded version of classic deviled eggs. The convert is my husband Jeff, who will pack in 4 or 5 halves in one sitting.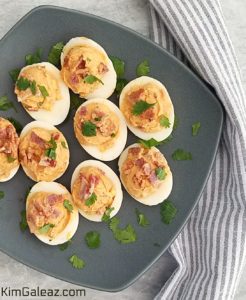 As a dietitian, I'm a-okay with that because eggs are naturally nutrient-rich. They're satisfying and protein-rich, with nearly half that protein in the yolk, by the way. The yolk also contains the abundance of choline, a vital nutrient for transportation of nutrients throughout your body, as well as lutein and zeaxanthin, two optimal-eye-health phytonutrients that may help reduce risk of age-related macular degeneration.
Enjoy my Smoky Chipotle Deviled Eggs at all your summer cookouts, picnics and gatherings!
Check out my How to Make Perfect Deviled Eggs Every Time. Tips for cooking and peeling.

Smoky Chipotle Deviled Eggs
Creamy, smoky and bacon-studded twist on classic deviled eggs.
Author:
Kim Galeaz RDN CD
Ingredients
12 large eggs, hard-cooked
⅓ cup reduced fat, light mayonnaise
½ cup light sour cream
2 canned chipotle peppers in adobo sauce, very finely chopped
1 tablespoon adobo sauce (from canned chipotle peppers)
½ teaspoon ground chipotle chili pepper
½ teaspoon smoked paprika
¼ to ½ cup finely chopped cooked bacon plus additional ¼ cup for garnish
Chopped cilantro, green onion or chives, optional garnishes
Instructions
Cut the hard-cooked eggs lengthwise in half. Scoop out the yolk and place in medium bowl. (Be careful not to damage the white halves.) Mash the yolks with a fork. Add mayonnaise, sour cream, chipotle peppers, adobo sauce, chile pepper, smoked paprika and ¼ cup chopped bacon. Stir well to blend all ingredients. Place filling in the whites using a small spoon, tiny cookie scoop or pipe in with a pastry bag and decorative tube. Garnish with remaining bacon and/or cilantro, green onion or chives as desired. Serve immediately or refrigerate in tightly covered container.