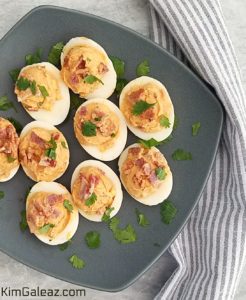 Ever been frustrated trying to peel hard-cooked eggs so your Deviled Eggs will turn out picture perfect?
I have numerous times. But with these simple tips, you'll have a better chance of more eggs turning out picture perfect – rather than rough and ripped.
How to Make Perfect Hard Cooked Eggs: Start with 1 dozen large eggs. Older eggs are better than fresher eggs to peel surprisingly. Place eggs in a single layer in a large saucepan. Don't stack the eggs. Add enough cold water to cover the eggs by at least 1-inch. Bring to a rapid boil over high heat (water will have large, rapidly breaking bubbles.) Remove from heat, cover and let them stand 12 – 15 minutes (depending on how "done" you like the yolk.) Drain hot water and run cold water over the eggs for several minutes or place them in ice water until cool enough to handle. Drain thoroughly.
How to Peel Hard Cooked Eggs: Gently tap both ends of egg on the counter top, then roll it on counter or in between the palms of your hands gently. Under cold running water, peel off shell, starting with the larger end.
Now, try your newfound knowledge on cooking and peeling hard-cooked eggs by making a batch of my Smoky Chipotle Deviled Eggs for your next picnic, cookout or tailgating party.