Time to visit the guys at Korn Country 100.3 FM and talk all things nutrition! And celebrate registered Dietitian Day, too! I'm taking them a variety of foods, and all have been changed a little to boost nutrition or cut calories/fat. I boosted nutrient-rich onions and garlic in my Zesty Guacamole. I substituted lower-fat and lower-calorie cheese and cream cheese and dressing in my Hot Buffalo Dip and I switched to all whole wheat flour in my Oatmeal Raisin Date Bars. Still rich flavor, but more nutrients. The perfect way to eat and balance all your calories. Enjoy!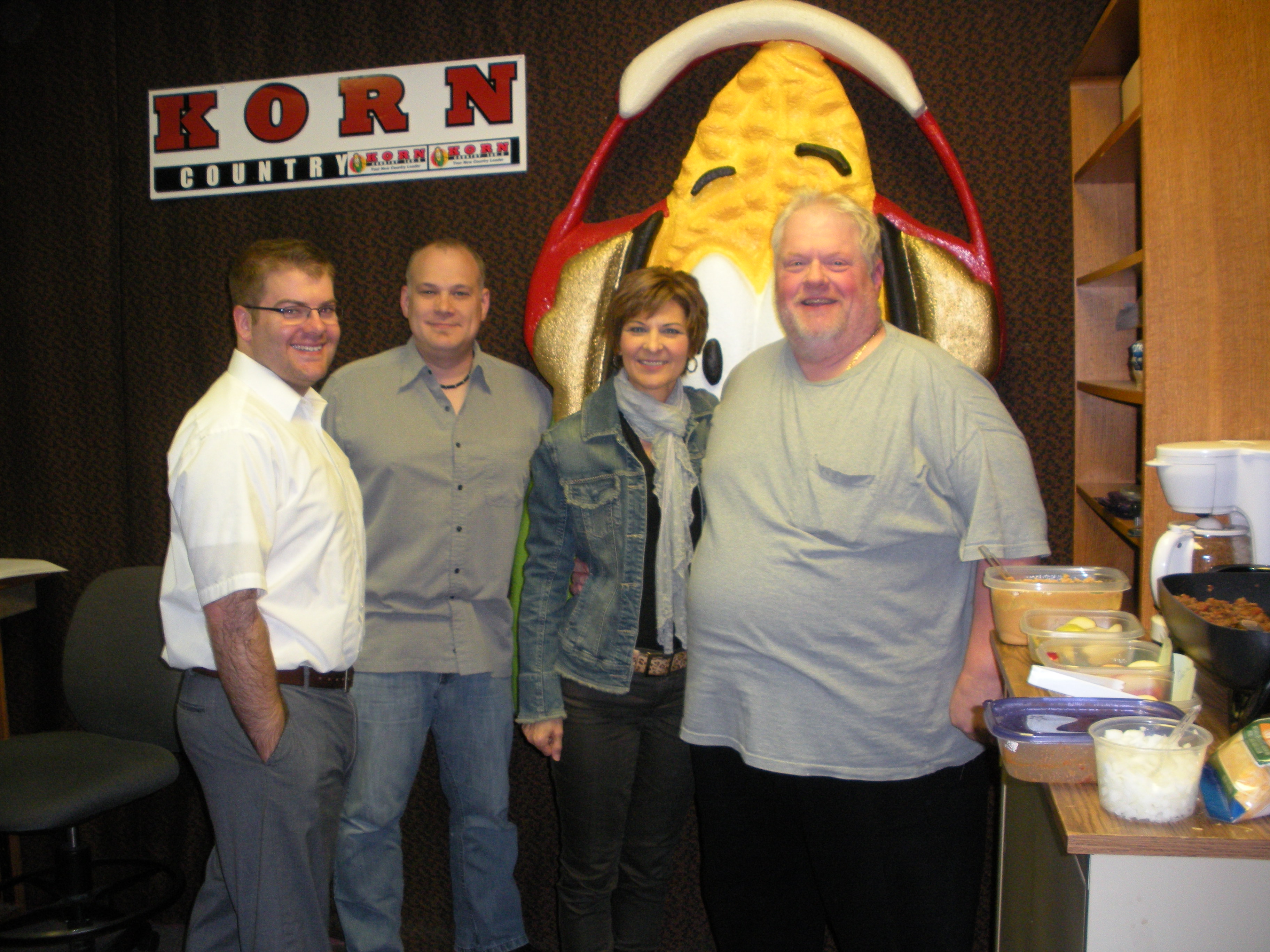 Hot Buffalo Chicken Dip
1 package (8 oz.) Neufchatel 1/3-less fat cream cheese
½ cup light reduced fat Ranch dressing
1 cup (4 oz.) finely shredded mozzarella cheese
½ cup cayenne pepper sauce (such as Frank's original)
2 cups shredded cooked, boneless skinless chicken breast
Heat oven to 350°F. Place cream cheese in a deep baking dish. Stir until smooth. Mix in dressing, cheese and hot sauce. Stir in chicken. Bake 20 minutes or until mixture is heated throughout. Garnish with fresh celery leaves, if desired, and serve with celery and carrot sticks, whole grain crackers or pita chips and pretzels. Makes about 4 cups dip (16 servings of ¼ cup each)  (Using fresh chicken reduces overall sodium in dish and the reduced fat Ranch dressing and cream cheese cuts fat and calories.) Recipe adapted from Frank's original by Kim Galeaz, RD CD
Zesty Chunky Guacamole
4 medium ripe avocados
2 garlic cloves, finely chopped
1 large jalapeno pepper, seeded and finely chopped
2/3 to 1 cup finely chopped onion
1 large vine-ripened tomato, finely chopped
1/3 cup finely chopped cilantro
2 ½ tablespoons fresh lime juice
½ to 1 teaspoon salt
Cut the avocados in half and remove the seed. Scoop out the pulp and place in bowl. Mash slightly with fork, leaving some chunks. Add garlic, jalapeno pepper, onion, tomatoes, cilantro and lime juice. Mix well; stir in salt to taste. Serve immediately or refrigerate in covered container. Makes about 4 cups guacamole.
Enjoy with multigrain tortilla chips, baked tortilla chips, pita wedges or fresh cut up veggies such as bell pepper strips (red, yellow, orange and green), carrots, cucumber, sugar snap peas, broccoli, cauliflower and celery. Recipe by Kim Galeaz, RD CD
 Whole Grain Oatmeal Raisin & Date Bars
½ cup butter (1 stick), softened slightly
1/3 cup canola oil
1 cup firmly packed brown sugar
½ cup granulated sugar
2 extra large eggs
2 teaspoons vanilla extract
1½ cups white whole-wheat flour (prefer King Arthur brand)*
1 teaspoon baking soda
1 tablespoon ground cinnamon
½ teaspoon ground allspice
½ teaspoon salt
3 cups old-fashioned oats, uncooked
2/3 cup raisins*
1 package (8 ounces) chopped dates
Preheat oven to 350°F. Coat 10x15x1-inch jelly roll baking pan with vegetable cooking spray. In a large bowl with electric mixer, beat butter, oil and sugars until creamy. Add eggs and vanilla; beat well. Add flour, baking soda, cinnamon, allspice and salt and mix thoroughly. Add oats, raisins and dates and mix until blended. Spread or pat batter in pan and bake 22 to 25 minutes or until light golden brown. Bars may appear slightly sticky in center with toothpick and they will appear a tad "puffed". They'll deflate once cooled. Be sure not to overcook, as bars harden slightly as they cool. Cool on wire rack; cut into bars and store in tightly covered container. Bars can be frozen. Simply wrap individual bars in plastic wrap and place all bars in zippered freezer bag. Makes about 24 bars (4 x 6 cut)
*Use ¾ cup all-purpose and ¾ cup regular whole wheat flour if you can't find the white whole wheat flour. Toss raisins in small bowl with about 2 teaspoons flour before adding to batter. This helps separate all the raisins.  Enjoy with a glass of 1% low fat milk for a calcium, vitamin D and protein boost!
Recipe Created by Kim Galeaz, RD CD