I'm headed to the Indiana State Fair for the first of five cooking demonstrations. Today's topic: The Dietitian Does Dessert and Kid-Friendly Treats. I'll be showcasing four of my favorites. Several of these, like the clusters, trail mix and dip, are super easy and the kids can make themselves or help you. Get them involved….and they'll be more inclined to enjoy these nutrient-rich treats!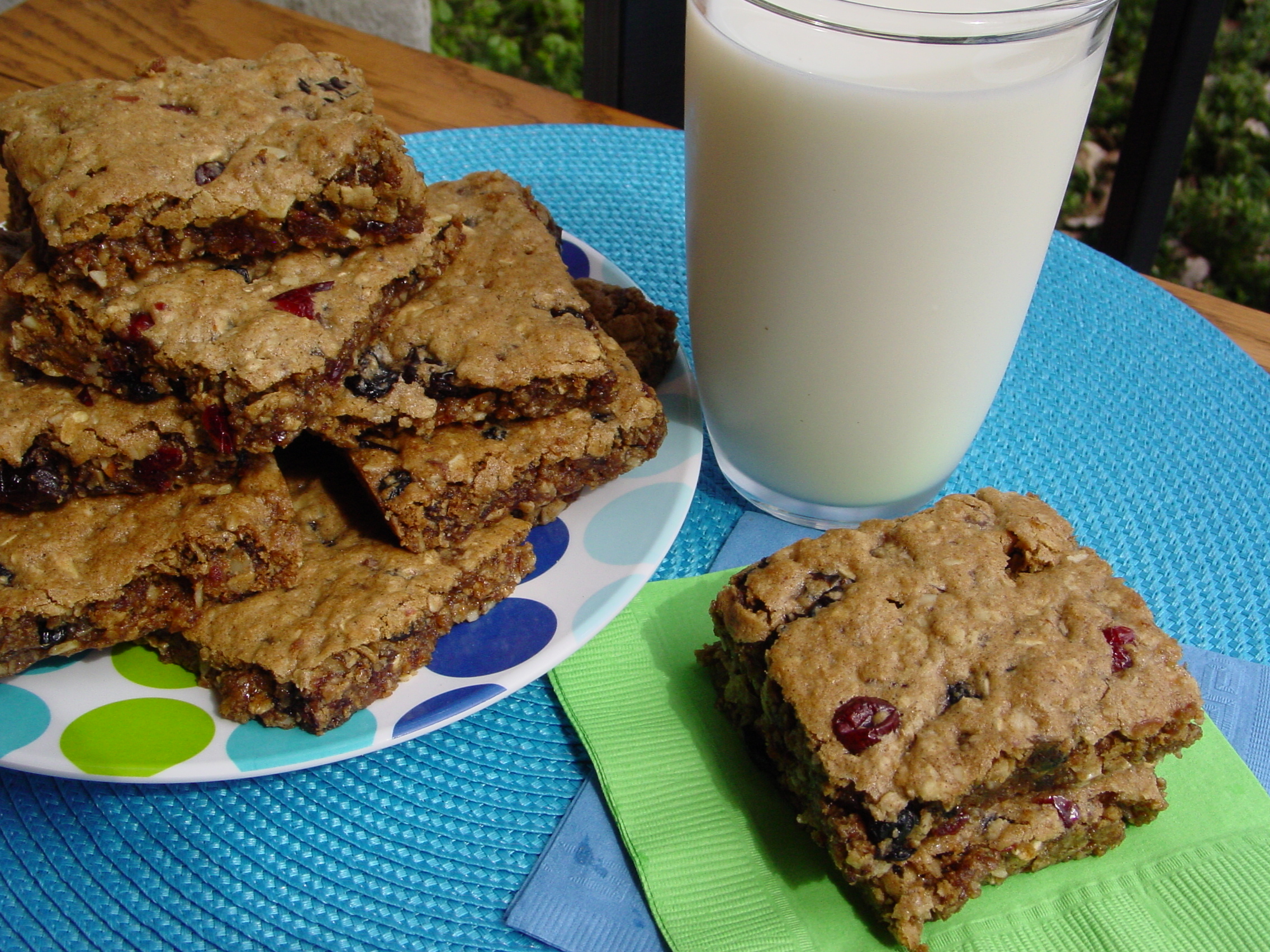 Decadent Chocolate Fruit & Nut Clusters
 1 bag (12 oz.) semisweet chocolate chips
1½ cups dried fruit, chopped if necessary*
1 cup finely chopped nuts*
Cover a large baking sheet with parchment or wax paper; set aside. Melt chocolate chips in double boiler over slightly simmering water.  (Create your own double-boiler by using a small saucepan or heat-proof bowl over a bigger saucepan that contains the simmering water.) Combine the dried fruits and nuts in a small bowl. Add to melted chocolate and stir to completely coat all ingredients. Using a measuring tablespoon, dip leveled clusters onto covered baking sheet about 1-inch apart. They will look uneven and shaggy. Refrigerate 30 minutes or until clusters are hardened and set. Store clusters in a tightly covered container in the refrigerator. Serve cold or at room temperature. The clusters taste most flavorful at room temperature, however.  Makes 30 to 36 clusters.
 *Cherry Walnut Version:
Dried Fruit:  1½ cup dried tart cherries     Nuts: 1 cup chopped walnuts
 *Date Fig Walnut Version:
Dried Fruit: ¾ cup chopped dried figs and ¾ cup chopped dates      Nuts: 1 cup chopped walnuts
 *Create your own version using any mixture of dried fruits and nuts: Cherries, cranberries and pecans. Dried apricots and almonds. Golden raisins and pistachios. Dates and cashews.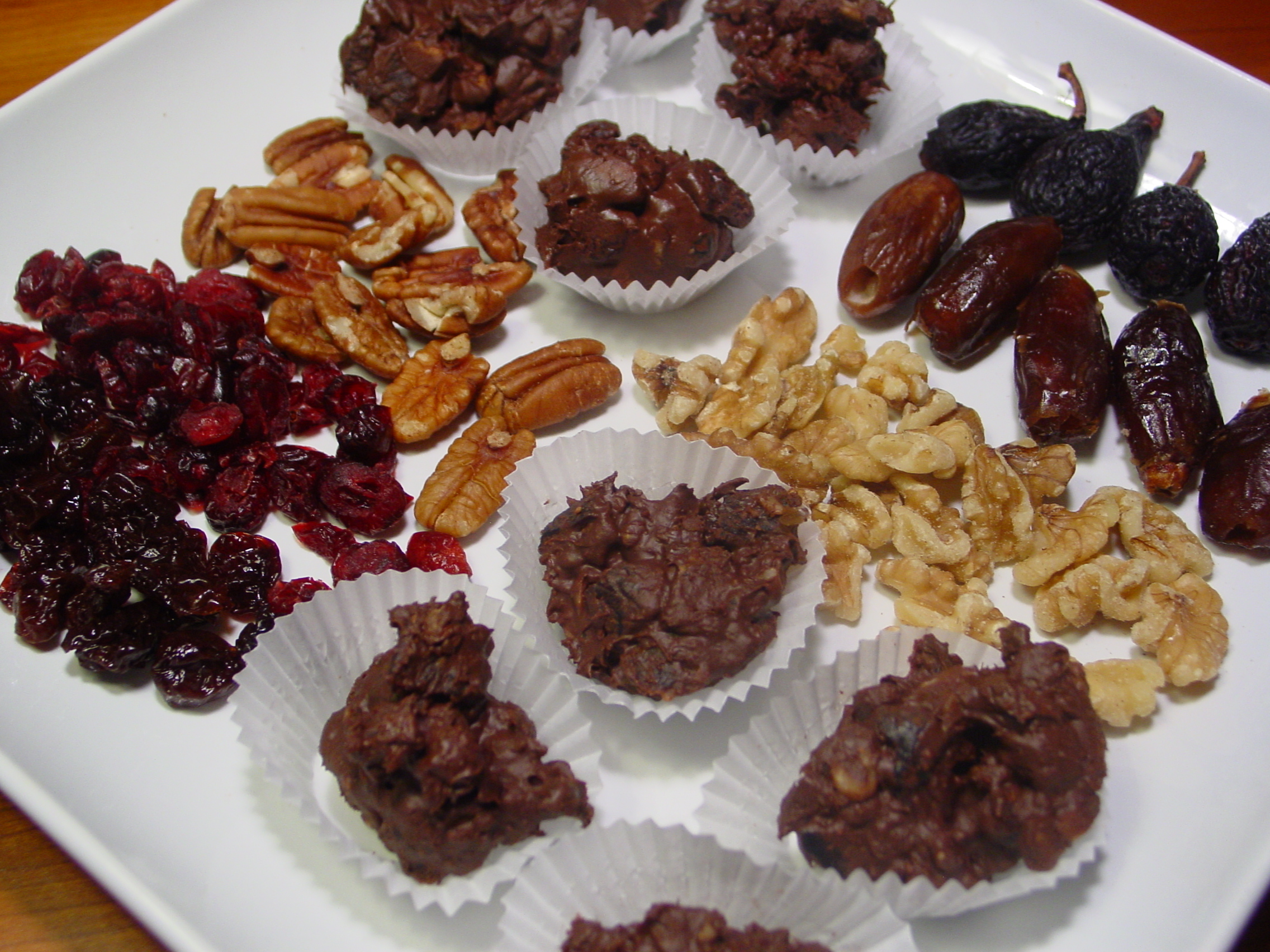 Pumpkin Cheesecake Dip with Apples & Pears
 1 package (8 oz.) 1/3-less fat cream cheese
1 can (15 oz.) pure pumpkin      
½ cup firmly packed brown sugar
1½ teaspoons pumpkin pie spice 
Apples, pears and Asian pears, cut into thick slices
 Combine cream cheese, pumpkin, brown sugar and pumpkin pie spice in a food processor until thoroughly blended. Chill at least one hour before serving. Serve with slices of fresh pears, apples and Asian pears. Makes about 2 ¾ cups dip (11 servings of ¼-cup each)
   Hike Bike & Swim Trail Mix           
 2 cups plain, frosted or honey-nut O-shaped cereal
1 cup whole-grain goldfish crackers
1 cup honey-roasted peanuts
1/2 cup dried tart cherries
3/4 cup raisins
Combine all ingredients in a large bowl. Keep in a tightly covered container or Ziploc bag.
Makes about 5 1/2 cups (or 22 servings of 1/4-cup each)
Whole Grain Oatmeal Raisin & Date Bars  (100% whole grain) 
½ cup butter (1 stick), softened slightly

1/3 cup canola oil

1 cup firmly packed brown sugar

½ cup granulated sugar

2 extra large eggs

2 teaspoons vanilla extract

1½ cups white whole-wheat flour (prefer King Arthur brand)*                            

1 teaspoon baking soda

1 tablespoon ground cinnamon

½ teaspoon ground allspice

½ teaspoon salt

3 cups old-fashioned oats, uncooked

2/3 cup raisins*

1 package (8 ounces) chopped dates
 Preheat oven to 350°F. Coat 10x15x1-inch jelly roll baking pan with vegetable cooking spray. In a large bowl with electric mixer, beat butter, oil and sugars until creamy. Add eggs and vanilla; beat well. Add flour, baking soda, cinnamon, allspice and salt and mix thoroughly. Add oats, raisins and dates and mix until blended. Spread or pat batter in pan and bake 22 to 25 minutes or until light golden brown. Bars may appear slightly sticky in center with toothpick and they will appear a tad "puffed". They'll deflate once cooled. Be sure not to overcook, as bars harden slightly as they cool. Cool on wire rack; cut into bars and store in tightly covered container. Bars can be frozen. Simply wrap individual bars in plastic wrap and place all bars in zippered freezer bag.  Makes about 24 to 30 bars. 
*Toss raisins in small bowl with about a teaspoon of flour before adding to batter. This helps separate all the raisins. 
 Enjoy with a glass of 1% low fat milk for a calcium, vitamin D and protein boost.