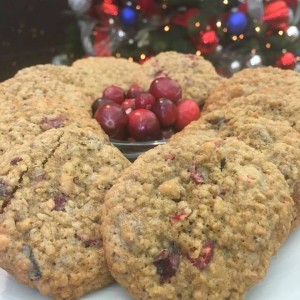 Cookies with perks.
That's dietitian-speak for a cookie that gives you great flavor AND lots of health benefits. So put those extra bags of cranberries to use that are in your freezer (leftover from Thanksgiving!) and whip up a batch of these easy cookies: Cranberry Orange Walnut Oatmeal Cookies.
Hot & Spicy Grammy Perks:
*Oats for soluble fiber to help promote healthy cholesterol levels and heart
*Cranberries for natural phytonutrients that help promote healthy urinary tract and ward off urinary tract infections. And even help with heart health and fight inflammation.
*Walnuts for plant-based omega-3 fatty acids for healthier heart.
*75% whole grain goodness from white whole wheat flour and oats; whole grains help provide satiety, offer many vitamins, minerals and fiber and helps promote healthy heart, blood pressure and digestive system.
Cooking with Grandkids:
*Young toddlers can help measure flour and sugar, whisk flour mixture and add ingredients to mixer, and even help turn mixer on and off and scrape sides of bowl. They can even click the cookie scoop and help get dough on cookie sheet – as long as they're old enough to have a strong grip with the scoop.
Great opportunity to teach all young children oven safety, too.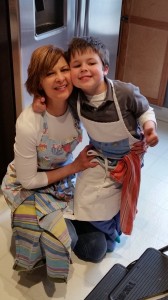 Elijah & Grammy Kim in our favorite aprons.                                                           
Cranberry Orange Walnut Oatmeal Cookies
Author:
Kim Galeaz RDN CD
Recipe type:
snack, dessert
Ingredients
¾ cup white whole wheat flour
½ cup all-purpose flour
1 teaspoon baking soda
½ teaspoon salt
2 sticks (1 cup) butter, softened
¾ cup sugar
¾ cup packed light brown sugar
2 large eggs
1 teaspoon vanilla extract
1 heaping teaspoon orange zest (from 1 medium orange)
3 cups quick-cooking oats (dry)
1½ cups coarsely chopped fresh or frozen cranberries
⅔ cup each butterscotch and chocolate chips
Instructions
Heat oven to 375°F. In a small bowl, whisk together both flours, baking soda and powder and salt. Set aside. In large bowl of electric mixer, combine butter, sugars, eggs and vanilla until nearly blended. Mix in orange zest. Mix in oats. Add cranberries and both chips and mix again just until thoroughly blended. Drop by rounded tablespoons onto ungreased cookie sheets. Bake about 8-9 minutes for a chewier cookie (slightly browned) or 9-11 for a crispier cookie. Cool cookies on cookie sheet about 1-2 minutes before removing cookies to wire racks to completely cool. Store in tightly covered container. Makes about 48-52 cookies.