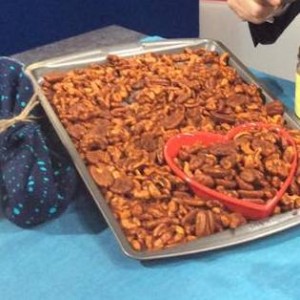 Aiming to maintain, not gain, this holiday season? Well then pay attention to those nibbles, sips and bites. Because they can really add up fast and before you know it, you've enjoyed hundreds of extra calories in one day. And many don't offer nutrient perks – only extra calories.
Take a look at these approximate calories:
Bite of those iced sugar cookies in the break room = 30 calories.
A big sip of pumpkin spice caramel macchiato = 55 calories.
Whittle away at co-worker's famous fudge in break room =75 calories.
Wait, another nibble = 50 more calories.
Handful of Hot Sweet Spicy & Smokey Mixed Nuts (recipe below) you made for the office party = 120 calories*
Another cookie bite = 30 calories.
Someone just opened the homemade peanut brittle, so 2 big bites = 160 calories.
This is a whopping 520 extra calories (at least) above and beyond your meals.
So be aware. Plan for these treats. Watch portions at meals to balance. And get moving. Movement = calorie burn. Get out of your chair!
*You brought these nuts to the office party because you know their calories are packed with tons of perks.
Hot & Spicy Grammy Perks:  heart-healthy fats, fiber, protein and dozens of essential health-promoting vitamins and minerals such as magnesium, copper, zinc and selenium.
Cooking with Grandkids: Even the youngest kids can pour nuts in the bowl, add oil and stir, help stir the spices and stir the spices onto nuts. Older kids can help stir nuts occasionally while cooking in oven.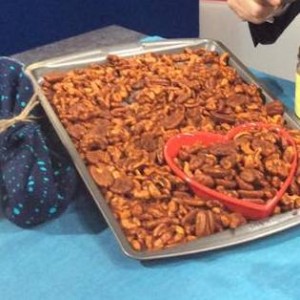 Hot Sweet Spicy & Smokey Mixed Nuts
Recipe type:
snack, appetizer
Serves:
10 servings of ⅓ cup each
Ingredients
1 cup walnut halves and pieces
1 cup pecan halves and pieces
1 ½ cups cashew halves and pieces
2 tablespoons Mazola corn oil
3 tablespoons firmly packed brown sugar
1 teaspoon ground chipotle chili powder
2 teaspoons chili powder
¼ teaspoon cayenne red pepper
½ teaspoons ground cumin
1 teaspoon garlic powder
1 teaspoon onion powder
Instructions
Heat oven to 325°F. Coat a 10x15x1-inch rimmed baking pan with cooking spray or parchment paper and cooking spray. Set aside. In a large bowl, mix walnuts, pecans and cashews. Add corn oil and toss until blended. In a separate small bowl, mix sugar and all spices. Add to nut mixture and stir well, coating all pieces. Spread evenly in prepared pan. Bake, stirring several times, until nuts are browned, about 15 to 20 minutes. Cool completely. Serve or store in airtight container or plastic bag at room temperature. Nuts will last about 5 days. Freeze if you have them longer.
Makes about 3⅓ cups nuts (10 servings of ⅓ cup each).