Election Night. My husband Jeff and I watch the election results while enjoying chili and cornbread, usually my Hearty Big Beef Chili.
But these unusual times call for a break from tradition. So I'm making my Caribbean Chili. (Doesn't that blue bowl really make the chili pop?) 
While anxiously watching the election results, we'll think of the blue waves near the Caribbean Islands. Blue waves that make us feel more calm and secure. Blue waves capped with decorum and decency. Blue waves that hit the coastlines of countries globally, where most of our ancestors originated. Blue waves that respect our country's global diversity, human rights and the environment.
Optimism for tonight's election results = blue in our book.
I'm already so anxious for tonight, I think I'll go find my two "food-styling only" blue bowls so we can eat our chili in them.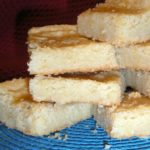 And since I'll already have the oven on for my Whole Grain Cornbread, I just might make a batch of my Obama Bipartisan Shortbread Bars, too.  (Links to my Big Beef Chili, Whole Grain Cornbread and Obama Bipartisan Shortbread Bars are below the Caribbean Chili recipe in the blue bowl.)

Caribbean Chili
Spice up traditional chili with this easy stove-top chili featuring corn, black beans, beef, pork, habanero chili pepper and lots of island-inspired spices.
Author:
Kim Galeaz RDN CD
Ingredients
1 tablespoon vegetable oil
1 pound ground pork
1 pound ground beef, 10% fat/90% lean
2 ½ cups finely chopped onion
4 very finely minced large garlic cloves
1 habanero pepper, seeded and very finely chopped
1 can (15.25 oz.) whole kernel sweet corn, drained
1 can (15.25 oz.) black beans, rinsed and drained
1 can (15.25 oz.) red beans, rinsed and drained
2 cans (14-15 oz.) petite diced tomatoes, undrained
3-4 cups lower sodium beef broth
2 tablespoons light brown sugar
¾ teaspoon allspice
½ teaspoon ground Saigon cinnamon
¼ teaspoon ground cloves
1 ¼ teaspoons dried thyme leaves
3 teaspoons chili powder
¼ teaspoon ground ginger
½ teaspoon ground black pepper
¼ teaspoon ground cayenne pepper
¼ teaspoon salt
Toppings: chopped mango, chopped cilantro, sliced red onion


Instructions
Heat oil in a very large stock pot or Dutch oven over medium heat. Add pork, beef, onions and garlic. Cook until beef and pork are done, and stirring and breaking up pork and beef into small crumbles while cooking. Drain grease if desired, but Kim likes to keep it in for great flavor. Add all remaining ingredients through salt and stir well. Bring to a boil, then reduce heat to simmer. Simmer until flavors blend/meld about 25 minutes. Enjoy immediately with toppings. Refrigerate leftovers in tightly covered container and enjoy (or freeze) within 3 days.
Makes about 14-15 cups chili.
Big Beef Chili
.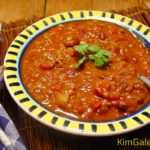 Whole Grain Cornbread
. 
Obama Bipartisan Shortbread Bars