What's your healthier eating goal for the New Year? Maybe it's eat more fruits and vegetables, add more whole grains or pack in more protein for satiety.
If it's all three, I have a few easy ways to accomplish that right away. From party appetizers and entrees for entertaining, to weeknight meals and breakfast meats, there's a pork pick for everyone!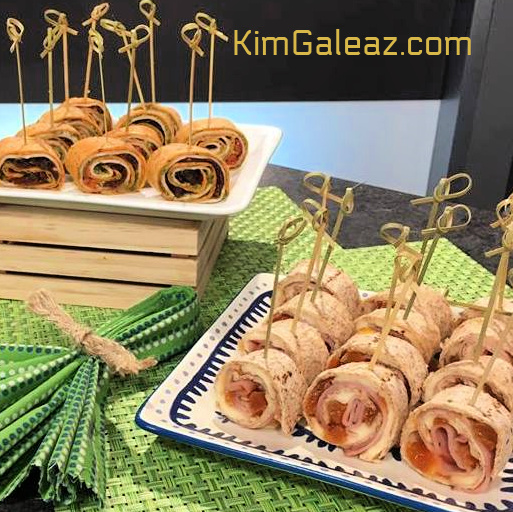 Goal: Eat more whole grains and vegetables.
My Ham Party Pinwheels help you easily do that. And they're the perfect no-bake, no-cooking, so-easy party appetizer! Use 100% whole wheat flour tortillas instead of white flour tortillas to up your "at least one-half daily" whole grain intake. Fill with sliced ham from the deli – it's always a very lean, high protein meat option. Then sprinkle with diced colorful bell peppers for a small dose of vegetables. 

Goal: Eat More Fruit. 
My Bacon Wrapped Dates fit that bill. Dates – and all dried fruits – count as nutrient-rich fruit servings. Dates are rich in fiber and potassium, too. Naturally sweet. This appetizer can be easily customized with your favorite cheese inside that slit date and even your favorite nut (walnuts or pecans). And since each cheese & nut-filled date is wrapped with 1/2 slice bacon, they are the perfect example of "blending and balancing" in my book. That means combining nutrient-rich foods/ingredients with the tasty decadence of bacon! But lest you think bacon is nothing but fat, celebrate the fact bacon does provide some protein. In fact, 2 slices cooked bacon contributes around 7 grams protein. 
Goal: Eat More Vegetables.
Well then grab that large rimmed baking sheet, cover with foil and get roasting! You can oven-roast so many vegetables, from green beans and carrots, butternut and acorn squash, beets and parsnips, cauliflower and broccoli, and Brussels sprouts and asparagus. My Bacon Wrapped Asparagus recipe is a fun and festive way to enjoy this nutrient-rich vegetable – it's filled with potassium, fiber and vitamins A, B and C.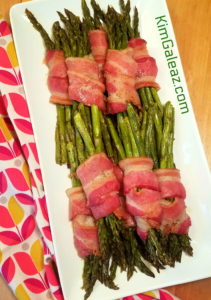 Goal: Eat More Lean Protein.
Bone-in pork loin and center cut chops. Boneless pork loin chops. Loin roast. Ham. Canadian bacon. Pork tenderloin. Just a few of the most widely enjoyed pork choices that also happen to be extremely lean, heart healthy and protein-packed. Why the emphasis on protein? Because protein is needed for building and replenishing and lean protein especially promotes optimal heart health.
In addition, recent research supports the positive impact on weight loss and weight maintenance by eating plenty of protein at EVERY meal, not just dinner for example. Protein provides satiety, that feeling of fullness and satisfaction, which helps prevent overeating throughout day. Aim for 20 to 30 grams protein at EVERY meal. It'll also help minimize age-related muscle loss as you age. 
Quick breakfast comment: if you're aiming to add more protein to breakfast to achieve that 20-30 grams, choose ham and Canadian bacon more often than sausage and bacon. Why? They're lower in calories and fat grams, yet extremely high in protein. A 3-ounce serving of Ham for example provides roughly 15 grams protein with only a couple grams fat. This translates to better for your heart.  
My Oven Roasted Pork Tenderloin with Spicy Espresso Rub is not only flavor-filled and stays lean from that fat-free rub, but it's ready in under 30 minutes. Best of both worlds. h, and did you know? The pork tenderloin is leaner than a boneless skinless chicken breast by a tiny amount! Keep it moist and flavorful by using an instant read thermometer and taking it out of the oven when that thermometer reaches 145 degrees. It'll still be slightly pink in center and that is perfectly safe to eat and enjoy…and it'll be flavor-filled and moist.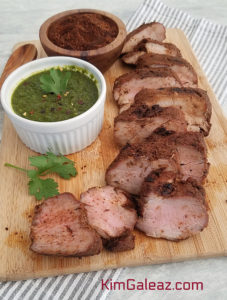 Goal: Eat More Vegetables and Make Quick Meals.
Then whip up a batch of Mexican Pork and Bean Soup, because it's ready in under 45 minutes and it contains lots of onion, garlic, tomatoes and pinto beans. Those are all the vegetables in this soup. Serve a big bowl with some crusty bread, maybe a side salad if you want and you've got a nutrient-rich, balanced meal. My recipe below features the adaptations I've made from the original version from the National and Indiana Pork organizations. Because I want more spice and heat. And also more of ground pork benefits: protein, B-vitamins, iron and zinc for optimal health and immune-boosting power.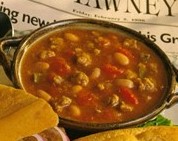 Good luck with your smart eating goals in 2019. And remember, start small. One or two tiny changes that can easily be incorporated in your lifestyle. Give yourself permission to enjoy and eat favorite foods. Balance all choices. Savor. Positive attitude. No fear, angst, guilt. 
Disclosure: As a proud supporter of Indiana agriculture and farmers, I'm happy to say this is a sponsored post for Indiana Pork on behalf of Indiana's 3000 Pork Farmers. All content is created solely by me and all opinions are mine. Learn more about sustainable pork production at www.ForkMorePork.com